Sparks

Fly
[Home] [PBS VideoDatabase] [Social Studies] [TSU] [UVA]
| | |
| --- | --- |
| | Types of graphic files (.bmp,.gif, .jpg) |
| | Inserting and Editing Graphics |
Graphics from other sources

Clipart from CD ROM
Graphics from the Web
Inserting and Editing Graphics (Microsoft Word)
Open Microsoft Word
Click Insert
Select Picture and Clipart
Select a category and a picture to insert into your document.
Click Insert
If the Picture Toolbar (pictured below) is not displayed, click View, Toolbars and select the Picture Toolbar.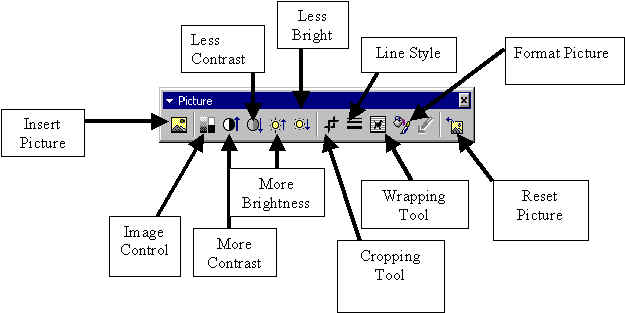 Cut, Copy and Paste
Click Edit, Copy or Cut.
Next, click Edit and Paste.
Or, you can use the shortcut button from the standard toolbar. These buttons are shown below.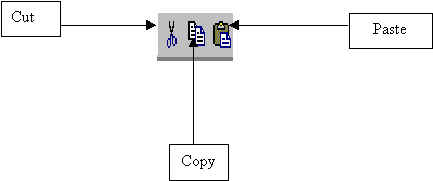 Shortcut Keys can also be utilized
Ctrl + C = Copy Ctrl + X = Cut Ctrl + V = Paste
Creating autoshapes, text boxes, word art, etc..
Use the Drawing toolbar below to add various graphics to your document.
If the toolbar is not visible, click View, Toolbars, and select Drawing.
*This toolbar is usually visible on the bottom of the Microsoft Word screen.
Ordering Objects
Click on the object or graphic that you want to move forward or backward. Click Draw on the drawing toolbar (pictured above), and select order.
Grouping Objects
Click on the "arrow tool" pictured above on the drawing toolbar.
Click and drag to select all of the objects you want to group. You should notice handles around each individual object.
Click Draw and select group. Your individual objects will now be one big "grouped" object.
Adding Clipart from a CD ROM
Select Insert, Picture, From File.
Change to the CD ROM drive.
Double-click to open a clipart folder with the theme you are looking for.
Click Insert, when you find the graphic you want.
Saving Clipart from the Web
Visit a free clipart website (be sure to check copyright information)
Right-click with your mouse on the graphic you want to save to use in your document
Next, use the left-click mouse button to select "Save image as..."
Change to the Floppy a: drive or a folder on your hard drive.
Click save.
To insert your picture in a document, click Insert, Picture, From File and change to your a: drive or folder where the graphic was saved.
Source: Cotton, Jarred. http://members.tripod.com/jacotton
This page was updated on: 04/10/02